Da Camels on Da Road Trip
The camels came from Mountain of Attention Sanctuary, a remote meditation retreat center about 2-1/2 hours north of San Francisco for adherents of the Adidam religious movement started by Adi Da Samraj.  The retreat center has a herd of camels. As part of an effort to reduce the herd's size, the traveling pair is being given to a organization through a "legal gifting process."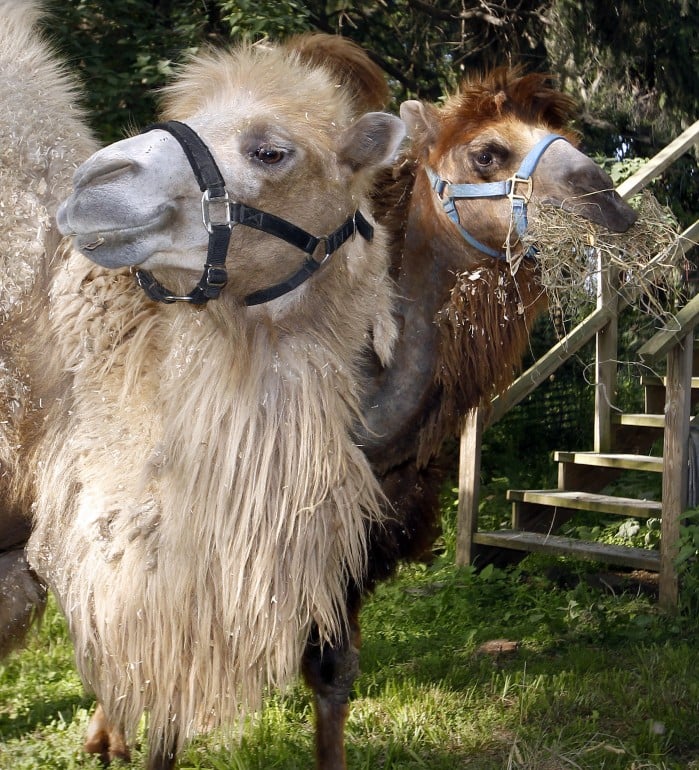 Source:  ANDREW WIND | WCF COURIER
Phoenix and Sage make their selves at home for an overnight visit to Cedar Falls, Iowa Sunday, May 13, 2012. The two Bactrian camels are traveling 3,000 miles from the Sacred Camel Gardens in California to Green Chimneys School in New York state. (RICK CHASE / Courier Staff Photographer) 
Video: New York bound camels make stop in Cedar Falls
Two young, male camels are in route to the Green Chimneys School in New York as part of the Sacred Camel Gardens of California's Fear-No-More Project. One of their stops included the home of Cedar Falls resident Linda Nebbe, who uses animal therapy to help special needs children.
CEDAR FALLS, Iowa — The 20 or so people on hand at Linda Nebbe's house Sunday crowded around Phoenix and Sage, snapping pictures as they stepped out of a trailer.
But the pair of Bactrian camels took their celebrity in stride, chomping on vegetation and looking at the crowd as they were led into a fenced enclosure adjacent to Nebbe's home. Once inside, they chewed the bark on a pine tree, gulped down hay and accepted the carrot sticks offered by young children.
The camels, who got back on the road this morning, are headed from California to Green Chimneys in Brewster, N.Y., a residential treatment program for at-risk and special needs children. They arrived at Nebbe's home on South Union Road — already brimming with animals being helped by the Black Hawk Wildlife Rehabilitation Project — through an arrangement with the New York organization's wildlife director.