M.K. Gandhi's pursuit of liberation from an era of violence and subjugation was thoroughly documented prior to Prerag Cicovacki's new look at Gandhi's actual goals and pragmatic approach for humanity's liberation.  Not only from government imperialism and racism but from the actual impediments to spiritual liberation did  Gandhi himself struggle against. The central issue and the novelty of this new book is its focus on what Gandhi wanted to liberate us for. The book also provides an assessment of how viable his positive vision of humanity was and is.
Cicovacki writes:
"What is paradoxical in Gandhi's approach is that he himself was a unique individual. To state it even more bluntly, he was one of the most unique persons in the entire history of the human race.  And he left us his autobiography, which is not just a soul's search for tuth and striving toward self-realization, but one unique soul's struggle to achieve moksha."*
*(State of oneness with God or Supreme Self, with knowledge, peace and bliss.)
Gandhi revolutionized the struggle for Indian liberation from Great Britain by convincing his countrymen that they must turn to nonviolence and that India needed to be liberated from its social ills—poverty, unemployment, opium addiction, institution of child marriage, inequality of women, and Hindu-Muslim frictions—even more than it needed political freedom.
Gandhi's legacy though not forgotten, is often distorted. Called "Mahatma" and venerated as a saint, he is often misinterpreted. Cicovacki attempts to de-mythologize Gandhi and take a closer look at his thoughts, aims, and struggles. He invites us to look at the footprints Gandhi left for us, and follow them as carefully and critically as possible. Cicovacki concludes that Gandhi's spiritual vision of humanity and the importance of adherence to truth (satyagraha) are his lasting legacy.
Gandhi's 5th grandson, Arun opines –
"Cicovacki's book is a serious and profound attempt to reach the depths of Gandhi's vibrant way of life. In this troubled world one can only ignore at one's own peril this book's message that Gandhi's philosophy of nonviolence should be followed without being imitated." 
———
Predrag Cicovacki is a professor of philosophy at the College of the Holy Cross. His research interests include Kant, violence and nonviolence, and problems of good and evil. He was a Senior Fulbright-Nehru fellow in India (2012-2013) and, prior to Gandhi's Footprints, is the author or editor of numerous essays and books, including Destined for Evil?, Albert Schweitzer's Ethical Vision, and Kant's Legacy.
Originally published at Gandhi Legacy Tours
How did M.K. Gandhi die and who killed him? These questions have never been adequately answered when looking at the life and biography of Mahatma Gandhi.  
Arun Gandhi's son, Tushar Gandhi, collaborated on the new film, based on his book Let's Kill Gandhi. Tushar Gandhi is available for speaking engagements via Catalyst House.
Who Killed Gandhi? is the definitive documentary film inquiry into a deeply entrenched conspiracy that has remained only a footnote in history.  It reveals an epic battle of clashing religious and political ideologies through interviews with historians, journalists, eyewitnesses and unprecedented access to the families of Mahatma Gandhi, his assassin Nathuram Godse, and the conspiracy that precipitated it.
(Enjoy this short trailer featuring commentary from Gandhi Tour leader 
and great grandson Tushar Gandhi, author of Let's Kill Gandhi!)
Narrated by Canadian star Gordon Pinsent, the investigative documentary Who Killed Gandhi? resurfaces rare archives, including the discovery of the All India Radio broadcast from January 20th 1948, where a gang of assassins is heard interrupting Gandhi's prayer meeting in a botched assassination attempt a mere ten days before the fateful final act.
This is the planet we exist on and in, yet we continually avoid the truth about atomic weapons; we close our minds to their monstrous reality – 100s of 1000s or even millions of innocent civilians incinerated in a sudden flash and many more to die slower.  Nuclear weaponry is a reflection of our nightmare-shadow side.  It must be faced head-on and discharged.  The atomic bomb lies within us all.
According to the Great Sage Adi Da Samraj, " … the explosion of great nuclear bombs merely represents the archetype of anger itself. And it is for this reason that the possibility of a nuclear holocaust, in the extreme moment of the now rising political confrontations, is an irrational—and, therefore, entirely possible, if not inevitable—event."
Never Forget Hiroshima & The "World's Greatest Bomb"
Most Americans 68 years ago on August 6, 1945, got their news from the radio, which transmitted the copy from Truman's statement shortly after the historic first atomic war event.  Immediately after the radio announcements, newspapers' banners proclaimed:
"America's Atom Bomb, World's Greatest, Hits Japs!"
Greg Mitchell at HuffPost notes: "Hiroshima did contain an important military base, used as a staging area for Southeast Asia, where perhaps 25,000 troops might be quartered. But the bomb had been aimed not at the "Army base" but at the very center of a city of 350,000, with the vast majority women and children and elderly males…. Indeed, a U.S. survey of the damage, not released to the press, found that residential areas bore the brunt of the bomb, with less than 10 percent of the city's manufacturing, transportation, and storage facilities damaged."
President Truman's first words on the subject set the narrative:
"Sixteen hours ago an American airplane dropped one bomb on Hiroshima, an important Japanese Army base. That bomb had more power than 20,000 tons of TNT. …The Japanese began the war from the air at Pearl Harbor. They have been repaid many fold….It is an atomic bomb. It is a harnessing of the basic power of the universe."
Takapart.com's Oliver Lee debunks the 3 overriding myths of U.S. justification for such a heinous act of barberism –  Read more
Our friend and associate, M.K. Gandhi grandson Arun Gandhi, may seem odd as a  runway model, but he recently strutted the runway wearing a kilt and 'Peace Tartan' for charity.
Arun was born in the apartheid South Africa. During his early teen years he lived with his Grandfather in India where he received one-on-one daily instruction from 'Mahatma' Gandhi on understanding violence, its causes and nature and the opposite living philosophy of nonviolence. 
Following in the footsteps of his grandfather, Arun is a true social activist who transverses the planet regularly, lecturing on nonviolence and introduces himself as a "Peace Farmer."  
Arun founded and stewards the Gandhi Worldwide Education Institute, which champions against child labor and poverty and rescues Indian children from human traffickers. (disclosure: I am am honored to be a Board member of that organization)
Source: NY Times India Ink Blog – 
On Monday, Mr. Gandhi donned a World Peace tartan kilt designed by Victor Spence, a Scotsman who has created a line of tartan clothes and accessories to promote world peace at the "From Scotland With Love" fashion show at Stage 48 on the West Side. The annual charity event was started 11 years ago by the actor Sir Sean Connery and the Scottish businessman Geoffrey Scott Carroll to promote Scottish culture in the United States. This year's theme, "The Scottish Lion Meets the Asian Dragon," included a mix of Asian and Scottish clothing from designers around the world. Proceeds will benefit the Wounded Warrior Project, a nonprofit group that helps injured American soldiers when they return home from war in Iraq and Afghanistan.
Mr. Gandhi was joined on the runway by the host of ABC's "Good Morning America," Josh Elliott, and Lt. Colonel Martha McSally, who is the first female fighter pilot in history, among others.
He spoke with India Ink before the show over tea at the Pierre Hotel, just after the fitting of his kilt, about strutting down the catwalk, lessons his famous grandfather taught him and how anyone today can join the movement for nonviolence and world peace.
Editor's Note:  Sunanda Gandhi's birthday was today, 1932.  This article originally appeared at www.GandhiForChildren.org October 10, 2010
Sunanda Gandhi (1932–2007) was an author, researcher, nurse and, along with her husband Arun Gandhi, co-founder of the M. K. Gandhi Institute for Nonviolence presently located at University of Rochester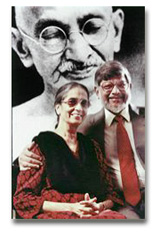 Prior, Sunanda and Arun, along with friends, organized India's Center for Social Unity which developed self-help, economic models for India's rural poor, assisting in breaking the cycle of poverty and keeping children at home and in school.
Between 1985 and 1987, Sunanda helped edit The Suburban Echo, a news weekly from Bombay.
Sunanda met Arun Gandhi while he was in the hospital. As a young nurse, Sunanda cared for Arun after surgery in India; a romance bloomed and their shared domestic life and work in nonviolence began.
Sunanda Gandhi's family were advocates of British rule and opposed to Gandhi, so the couple had many obstacles to overcome.
Be the change you wish to see in the world. – MK Gandhi
Only everybody-all-at-once can change the current chaos. – Adi Da Samraj
World Peace Day is not only about encouraging peace between nations and governments but is also about you and me and nonviolence in our homes, communities and schools, hence – "Be the change you wish to see in the world!"
UN Secretary General Ban Ki-Moon: "On September 21, the United Nations will celebrate the International Day of Peace (Peace Day). Every year since 1982 this day has provided a rallying point for member states and individuals to join forces to end conflict."
Steven Hoffer / AOL News Surge Desk today suggested a crash course on the primary ways the world has observed previous Peace Days –
1. Do something!
You don't necessarily need to travel around the planet to meet with the Dalai Lama and Kofi Annan, as International Peace Day founder Jeremy Gilley did when he created the global effort. Gilley will tell you himself:
Preaching the message of peace and nonviolence at the recent Peace Conference in Palm Spring, California, Mahatma Gandhi's grandson Arun Gandhi said, "Over the years we have been feeding the wrong wolf in us, and so we have seen this escalation of violence." The conference was hosted by Rotary International at the Palm Springs Convention Center on November 13th.
"Experts say 80 percent of violence we experience stems from anger," Gandhi said, and "If you want to learn nonviolence and practice nonviolence, learn how to understand your anger and control it. Anger is like electricity. It's just as powerful and just as useful, but only if we use it intelligently."
Talking of the conference, Denise Wadsworth of Rotary International stated, "The goal is to give opportunities for people of many cultures to come together in a beautiful setting to promote peace and understanding."
Source: Varun Soni | The Huffington Post
In 2007 the U.N.  adopted a resolution recognizing Mahatma Gandhi's birthday (October 2) as the "International Day of Non-Violence."   The resolution highlights "the holistic nature and the continued relevance of the Mahatma's message for our times, indeed for all times to come. It encompasses the rejection of violence against oneself, against others, against other groups, against other societies and against nature."
From The Huffington Post –
This year, Gandhi's birthday is an opportunity for the U.N. to think deeply about how Gandhian peacemaking can be relevant to its work of engagement, mediation, and reconciliation.
Interfaith, Peace & Social Justice
Born in 1934 in Durban, South Africa, Arun Gandhi is the fifth grandson of India's legendary leader, Mohandas K. "Mahatma" Gandhi. Growing up under the discriminatory apartheid laws of South Africa, he was beaten by "white" South Africans being too black and "black" South Africans being too white; so, Arun sought eye–an-eye justice. However, he learned from his parents and grandparents that justice does not mean revenge, it means transforming the opponent through love and suffering.
Grandfather taught Arun Gandhi to understand nonviolence through understanding violence. "If we know how much passive violence we perpetrate against one another we will understand why there is so much physical violence plaguing societies and the world," Gandhi said. Through daily lessons, Arun says, he learned about violence and about anger.