AUTHOR: LYNNEA BYLUND
– CLICK AVAILABLE FORMATS –
8.5×11 Paperback / $29.95
ISBN: 979-8-9855271-1-7
8.25×11 Hardcover / $39.95
ISBN: 979-8-9855271-0-0
13×11 Deluxe 'Landscape Coffee Table' Book / $179.95
ISBN: 979-8-2102056-4-3 – Click to Order
PAGES: 120 (all editions)
Contact: [email protected]
Download or Print: Sales Sheet
————————————————————-
"His was a challenging journey –
– and it changed the world."
——————————————————————
He was a delicate and fragile man with glasses and a customary Hindu waistcloth, used a bamboo walking stick, and had a near-toothless smile. His outward appearance was that of a humble unassuming holy man; and fortified only with terrific bravery and an unshakeable dedication to nonviolent resistance Gandhi persevered and ultimately prevailed over one of history's greatest empires.
Gandhi Legacy Tour of India does not focus on places of tourist interest, but rather places of human interest. It is designed to educate in the essence of Mahatma Gandhi's philosophy of nonviolence and how individuals may apply it to bring about socio-economic change.
Journey with us as we recreate the Tour through words and pictures!
"The opportunity to travel with Arun and Tushar Gandhi on the
2009-2010 Gandhi Legacy Tour of India was life-changing;
as an American working on behalf of nonviolence, I gained a new
sense of depth, connection and vitality for carrying the Mahatma's
work into future generations.
This captivating book captures the essence of these tours!"
– Kit Miller / Director Emeritus –
M.K. Gandhi Institute for Nonviolence
 ABOUT THE AUTHOR
Lynnea Bylund has a degree in holistic health and nutrition from the legendary and controversial health researcher, educator and activist Doctor Kurt Donsbach; She is the former Managing Director of Gandhi Legacy Tours; Emeritus Director of Gandhi Worldwide Education Institute; Founder of Catalyst House; and has over three decades of knowledge in corporate administration marketing and business development. Through the 90s she was a nationally recognized spokeswoman for emerging broadband video and information delivery industries. Lynnea is the founder of two not-for-profit small business-based wireless trade associations and has lobbied on Capitol Hill and at the FCC where she has spoken out strongly against the cable TV monopoly, illegal spectrum warehousing and congressional schemes to auction our nation's precious airwaves to the highest bidder.
Lynnea is enthusiastically available to give her well-received talks and presentations about Gandhi Legacy Tours of India and South Africa AND Gandhi's vision of a future "Sarvodaya" society — where everyone enjoys a good standard of living with attendant rights & privileges.
Every sale of the Gandhi Legacy Tour of India 'The Book' benefits under-privileged children.  For more information, or to make or consider your gracious direct donation to any of the groups featured in 'The Book', a list of organizations links is maintained for your convenience at our website – www.catalysthouse.net/donations.
M.K. Gandhi's pursuit of liberation from an era of violence and subjugation was thoroughly documented prior to Prerag Cicovacki's new look at Gandhi's actual goals and pragmatic approach for humanity's liberation.  Not only from government imperialism and racism but from the actual impediments to spiritual liberation did  Gandhi himself struggle against. The central issue and the novelty of this new book is its focus on what Gandhi wanted to liberate us for. The book also provides an assessment of how viable his positive vision of humanity was and is.
Cicovacki writes:
"What is paradoxical in Gandhi's approach is that he himself was a unique individual. To state it even more bluntly, he was one of the most unique persons in the entire history of the human race.  And he left us his autobiography, which is not just a soul's search for tuth and striving toward self-realization, but one unique soul's struggle to achieve moksha."*
*(State of oneness with God or Supreme Self, with knowledge, peace and bliss.)
Gandhi revolutionized the struggle for Indian liberation from Great Britain by convincing his countrymen that they must turn to nonviolence and that India needed to be liberated from its social ills—poverty, unemployment, opium addiction, institution of child marriage, inequality of women, and Hindu-Muslim frictions—even more than it needed political freedom.
Gandhi's legacy though not forgotten, is often distorted. Called "Mahatma" and venerated as a saint, he is often misinterpreted. Cicovacki attempts to de-mythologize Gandhi and take a closer look at his thoughts, aims, and struggles. He invites us to look at the footprints Gandhi left for us, and follow them as carefully and critically as possible. Cicovacki concludes that Gandhi's spiritual vision of humanity and the importance of adherence to truth (satyagraha) are his lasting legacy.
Gandhi's 5th grandson, Arun opines –
"Cicovacki's book is a serious and profound attempt to reach the depths of Gandhi's vibrant way of life. In this troubled world one can only ignore at one's own peril this book's message that Gandhi's philosophy of nonviolence should be followed without being imitated." 
———
Predrag Cicovacki is a professor of philosophy at the College of the Holy Cross. His research interests include Kant, violence and nonviolence, and problems of good and evil. He was a Senior Fulbright-Nehru fellow in India (2012-2013) and, prior to Gandhi's Footprints, is the author or editor of numerous essays and books, including Destined for Evil?, Albert Schweitzer's Ethical Vision, and Kant's Legacy.
News Announcement Originally Posted at Gandhi Legacy Tour

(PRLEAP.COM) Dana Point, CA May 24, 2014: The inaugural Satyagraha Tour of South Africa enjoys organic synchronicity of critical historical dates of both Mohandas Gandhi and Nelson Mandela.  Highlights include following the path of Gandhi's travels, initially arriving in Durban, and ultimately departing from Cape Town for his return to India to begin the next phase of his legacy:
Gandhi first arrived in South Africa as a fledgling lawyer in May 24, 1893.
Our arrival to Gandhi's first ashram, the Phoenix Settlement, occurs on the 97th anniversary of Gandhi's family move there.
We will board the sleeper train on the 121st anniversary of Gandhi's removal from that train, which changed the course of history.
We visit Robben Island, the prison that held Mandela for 18 years, on the 50th anniversary of Mandela's life sentence for sabotage against the Apartheid government of South Africa.
We depart Cape Town on the eve of Gandhi's 100th anniversary of his very own departure from Cape Town back to India.
Also scheduled are special meetings with historic figures that played a significant role in the fight for freedom during Apartheid, like Ahmed Kathrada and Ela Gandhi, Gandhi's granddaughter who spent years under house arrest for her South African activism.
"There's something in all of us that hungers after the good and true, and when we glimpse it in people, we applaud them for it. Through them we let the world's pain into our hearts, and we find compassion. When things go wrong or have been terribly wrong for some time, their inspiration reminds us of the tenderness for life that we can all feel."   – Archbishop Desmond Tutu
As a part of the first Satyagraha Legacy Tour of South Africa, there are several projects we visit that are aligned to Gandhi's principals and are geared toward giving back, including: Read more
Originally published at Gandhi Legacy Tours
How did M.K. Gandhi die and who killed him? These questions have never been adequately answered when looking at the life and biography of Mahatma Gandhi.  
Arun Gandhi's son, Tushar Gandhi, collaborated on the new film, based on his book Let's Kill Gandhi. Tushar Gandhi is available for speaking engagements via Catalyst House.
Who Killed Gandhi? is the definitive documentary film inquiry into a deeply entrenched conspiracy that has remained only a footnote in history.  It reveals an epic battle of clashing religious and political ideologies through interviews with historians, journalists, eyewitnesses and unprecedented access to the families of Mahatma Gandhi, his assassin Nathuram Godse, and the conspiracy that precipitated it.
(Enjoy this short trailer featuring commentary from Gandhi Tour leader 
and great grandson Tushar Gandhi, author of Let's Kill Gandhi!)
Narrated by Canadian star Gordon Pinsent, the investigative documentary Who Killed Gandhi? resurfaces rare archives, including the discovery of the All India Radio broadcast from January 20th 1948, where a gang of assassins is heard interrupting Gandhi's prayer meeting in a botched assassination attempt a mere ten days before the fateful final act.
Original Post Source: Gandhi Legacy Tour
I was 16 years old and living with my parents at the institute my grandfather had founded 18 miles outside of the city of Durban, South Africa, in the middle of the sugar plantations. We were well within the country and had no neighbors, so my two sisters and I always look forward being able to go to town to visit friends or go to the movies. One day my father asked me to take him to the city to attend a conference that lasted the whole day and I jumped at the chance.
As he went to town, my mother gave me a grocery list of things I needed and my father asked me to take care of some outstanding things like taking the car serviced. When I left my father, he told me: See you here at 5 pm and we will go home together.
After quickly completing all the assignments, I went to the nearest cinema. I focused so much with the film, a John Wayne movie, I forgot the time. It was 5:30 pm when I remembered. I ran to the garage and got the car and hurried to where my father was waiting. It was nearly 6 pm.
He anxiously asked: Why are you late? I felt bad about it and I could not say I was watching a John Wayne movie in Durban. Then I told him the car was not ready and had to wait. I said this without knowing that my father had already called the garage.
> Continue reading at Gandhi Legacy Tour
The Buddha said, "Of all relationships, the best is trust."  But recent NSA revelations have demonstrated that we are attempting to build a world of distrust in a mistaken search for security. Let us begin by dismantling that premise.  Where do we start?
On this day, July 23, 2006, World Friend Adi Da declared a decisive moment in human history for the sake of global cooperation, tolerance, and peace. In His book, Not-Two Is Peace, Adi Da Samraj, speaks to our planet's violent human situation with a clarion call for global change in the form of a "Global Cooperative Forum", a unique global institution founded in the inherent truth of prior unity.  
From His essay "723:  The Free Declaration of The Universal Moral, Social, and Political Laws of True and Necessary Civilization" (pp 251 in Not-Two Is Peace):
This Free Declaration is the Seed-Utterance of that new and necessary true and right (and truly globally, totally, and universally cooperative) order.
This moment in human-time—July 23, 2006—is the precise and decisive moment of the uniquely new human necessity for all of humankind.
One and all, consider this Free Declaration of your possibility on Earth.
One and all, Be of this Free Wisdom Blessed and made all right—together and at once.
Something new must emerge ….. A new mode of social contract …. an ego-less mode …… based on cooperation, tolerance and universal participation and accountability.
Peace is not only about encouraging peace between nations and governments but is also about you and me and nonviolence in our homes, communities and schools, hence – "Be the change you wish to see in the world!"
You are invited to participate in the initiation of the Global Cooperative Forum, the universal representative body for all of humanity via global conference on Tuesday July 23rd 2013 @ 6:30PM.
Mahatma Gandhi once observed that, "moral authority is never retained by an attempt to hold onto it." A decline in moral authority and increasing disenchantment is witnessed daily whether with our government or our economy. Once lost it becomes difficult to regain. July 4th, and in light of the recent Orwellian U.S. Government citizen spying revelations, it seems timely to examine examples from our nation's and Gandhi's history.
On July 4th 1934 the Sydney Herald reported that Gandhi's campaign for the emancipation of the untouchable classes, had fomented attacks and assassination attempts on him, and had revealed evidence of powerful growing hostility on the part of Hindus, who particularly resented Gandhi's attempt to secure for the untouchables the right to enter Hindu temples, draw water from wells and wash in pools, all of which had previously been exclusively reserved for the use of orthodox Hindus.*
……..*See Let's Kill Gandhi by Tushar Gandhi
On July 4th, 1776 the colonies which would later become the United States of America issued a Declaration of Independence from the mother country England.  For this small group of independent entities with no means of power to challenge the greatest power on earth it was quite an undertaking as their great strength was derived not through power but moral authority.  
It is often overlooked that within England the colonies enjoyed widespread support as the result of their moral authority. 
The real meaning of July 4th is not fireworks, picnics and barbecues – Its America's Declaration of Independence – the instigating document of our democracy – it gives us the true meaning of a patriot, one who supports our nation's ideals, while not necessarily its government.
[Editor's note: Stephanie Brown was a participant of this year's tour, which I helped to organize. She has been journaling at her ShutterFly photo blog where she has posted many more images that she and her father Jerry took]
The Gandhi Legacy tour is a J-term course option at Salisbury University in Maryland.  One of our tour members, Anthony, attended as a SU graduate student last year and came back this year to bring his fiancé, Katie.  Half seriously they started talking about getting married at the Sabarmati Ashram.  Arun caught wind of it and started making the preparations including re-writing the vows that his Grandfather once used to be relevant to the times.  Anthony and Katie picked out wedding clothes during a market excursion in Kolhapur and the wedding was planned to take place shortly after we arrived at the ashram.  It was a beautiful, simple ceremony.
Ahmedabad Day 1
Our first train experience was an overnight ride from Mumbai to Ahmedabad.  I thought this might be a good opportunity to get caught up with journaling and photo edits but since we did not board until after 10pm it was lights out after we settled in.  I slept remarkably well in my very hard upper berth and was pretty well rested when we arrived just before 7am.  Read more
Recently, and just in time for the holidays, I was gifted MAHATMA, Gandhi's Life in Color: a wonderful new Gandhi bio-pictorial book.  The publisher, GandhiServe Foundation, operates the world's largest repository of digitized Gandhi historical media. This is a fabulous ground-breaking photo book, impressive in its size and volume of images; many of which previously unseen by me.
This grand assemblage includes a short forward by Dr. Bindeshwar Pathak, the eminent sociologist and social reformer who increasingly is becoming known in India and abroad as the "Toilet Guru" for his efforts to bring modern toilet facilities to 300 million Indians who are still forced to defecate in the open, and to utilize such facilities to generate renewable-energy bio-gas.
Gandhi's Life in Color
MAHATMA, Gandhi's Life in Color, reintroduces to the world the iconic figure of Gandhi through preciously rare images and archival material. An interdisciplinary labor of love, Gandhi historians and scholars, photographic authorities and digital designers collaborated to transform black and white photographs into color images and authentic historical documents.
Painstakingly assembled and published by GandhiServe India, this uniquely imposing pictorially beautiful biography presents nearly 1,300 photographs spanning the entirety of Gandhi's life in color, from 1869 thru his death in 1948, traversing 690 pages and weighing in at over 14 pounds, MAHATMA is the ultimate coffee table book for any student, lover, or adherent of Gandhian history and philosophy.
Here is an outstanding film by a teenager that Arun Gandhi met in San Luis Obispo, CA.  Matthew J. Evans takes a look at one of the most pressing issues in our modern society: violence among religions. Through discussions with Arun, and local religious leaders from the Central Coast of California, Matthew learns powerful lessons about nonviolence, acceptance, and cultural understanding. As my grandfather has said, 'We must become the change we wish to see in our world!' This film helps us understand how we can make these changes.
Hi Arun! Below is a link to the documentary I made featuring you called "A Quest for Peace: Nonviolence Among Religions"  I think it came out really well, and I can't wait to hear your feedback. Thanks so much for allowing us to interview you, and give us such amazing material to work with. You did such a great job in the interview, and in your talk later the evening. I am so grateful for the opportunity to meet you.      Thanks again, Matthew
Editor's Note:  Sunanda Gandhi's birthday was today, 1932.  This article originally appeared at www.GandhiForChildren.org October 10, 2010
Sunanda Gandhi (1932–2007) was an author, researcher, nurse and, along with her husband Arun Gandhi, co-founder of the M. K. Gandhi Institute for Nonviolence presently located at University of Rochester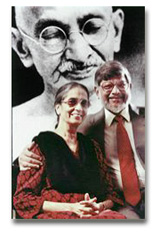 Prior, Sunanda and Arun, along with friends, organized India's Center for Social Unity which developed self-help, economic models for India's rural poor, assisting in breaking the cycle of poverty and keeping children at home and in school.
Between 1985 and 1987, Sunanda helped edit The Suburban Echo, a news weekly from Bombay.
Sunanda met Arun Gandhi while he was in the hospital. As a young nurse, Sunanda cared for Arun after surgery in India; a romance bloomed and their shared domestic life and work in nonviolence began.
Sunanda Gandhi's family were advocates of British rule and opposed to Gandhi, so the couple had many obstacles to overcome.
The question "What is God?" has baffled humankind for eons and will continue to defy logical understanding as long as we live with the concept that there is a heaven up above, where God sits judging all of humanity and punishing those who misbehave. Eminent thinkers throughout history have tried to find a logical answer to this vexing question, with little success. On the other hand His Holiness Gautama, the Buddha, did tapasya (Sanskrit for asceticism) under a banyan tree and, like some others, found that God exists within every human heart in the form of love, compassion, understanding, and other positive attributes humankind is capable of but often chooses to suppress. It seems that instead of trying to assert strict logic or put a solid image to our concept of God, we ought to follow their example and devote greater energy to intuitively understanding the meaning of God.
This book, God Without Religion: Questioning Centuries of Accepted Truths by Sankara Saranam, helps us do just that. It offers a refreshing attempt to provide humankind with a modernized spiritual road-map for use in our eternal quest to comprehend God.
Since the identity of God is so inscrutable (if not the best-kept secret in the world) and the philosophy surrounding this power so impenetrable, religious leaders of various faiths have defined God in ways that raise more questions than they answer. The easiest and most accepted explanation is to see God in the shape of those who are considered God's messengers-among Jews, Moses and the Hebrew Prophets; among Christians, Jesus; among Muslims, Muhammad; among Hindus, Krishna; and among Buddhists, Gautama.
Be the change you wish to see in the world. – MK Gandhi
Only everybody-all-at-once can change the current chaos. – Adi Da Samraj
World Peace Day is not only about encouraging peace between nations and governments but is also about you and me and nonviolence in our homes, communities and schools, hence – "Be the change you wish to see in the world!"
UN Secretary General Ban Ki-Moon: "On September 21, the United Nations will celebrate the International Day of Peace (Peace Day). Every year since 1982 this day has provided a rallying point for member states and individuals to join forces to end conflict."
Steven Hoffer / AOL News Surge Desk today suggested a crash course on the primary ways the world has observed previous Peace Days –
1. Do something!
You don't necessarily need to travel around the planet to meet with the Dalai Lama and Kofi Annan, as International Peace Day founder Jeremy Gilley did when he created the global effort. Gilley will tell you himself:
Rochester New York July 7, 2012 — Mahatma Gandhi's grandson, Dr. Arun Gandhi, visited Brazil the last week of June 2012.  He spent his seven-day tour visiting Salvador Bahia and Sao Paulo as well as talking with leaders from the Salvador Ministry of Education, Culture and International Relations, the Center for Support of Children with Cerebral Palsy (NACPC) a project recognized by UNESCO and UNICEF,  Teodoro Sampaio (Bairro Santa Cruz), Sons of Gandhi (Filhos de Gandhy), Residents de Sao Miguel Paulista, Institute of Democracy and Sustainability, and Fundacao Tide Setubal.
While in Brazil, Dr. Gandhi also enjoyed separate visits with Salvador Municipal Secretary of Education, Juan Carlos Bacelar and the leadership of Institute of Democracy and Sustainability and Fundacao Tide Setubal to discuss the current situation in Brazil and begin a dialogue on how Mahatma Gandhi's philosophies of nonviolence and education can be implemented in the ongoing development work there.  Dr. Gandhi gave a 20 minute interview with the Redo Record de Televisiao News Network and held several press conferences.
Mahatma Gandhi Grandson to provide Keynote Address at Brazilian Education Conference
Arun Gandhi to speak at Salvador Bahia Annual Forum: Education in the First Place 
Dr. Arun Gandhi, noted peace and human rights activist and president of the Gandhi Worldwide Education Institute ('GWEI') has accepted an invitation introduced by Catalyst House, to provide keynote address from the Brazilian City of Salvador Bahia (Salvador da Bahia) at the City's annual Education in the First Place Forum, it was announced today by Emilia Queiroga Barros its Executive Director.  Dr. Gandhi's keynote opening entitled: 'Education, a Legacy of Love will be given on June 26, 2012 at the Teatro Castro Alves complex.
Arun Gandhi, the fifth grandson of Indian leader Mohandas K. Gandhi, aka Mahatma Gandhi, is an advocate for nonviolence and has been a Washington Post columnist, has worked for 30 years as a journalist for The Times of India, and is the author of several books, including "A Patch of White" (1949) and Legacy of Love (2002). In 2011 Dr. Gandhi provided the keynote address to a gathering of 30,000 attendees at Dali Lama's birthday event in Washington DC.
In May of 2008, the Institute was founded in the United States by Arun Gandhi, grandson of M.K. Gandhi, to promote community building in economically depressed areas of the world through the joining of Gandhian philosophy and vocational education for children and their parents.  Gandhi Worldwide has embarked on an ambitious multi-pronged program to help eradicate the scourge of poverty and human degradation. Gandhi said: "Poverty is the worse form of violence," and must be tackled on all fronts to ensure human rights and human dignity to those who are victims of societal exploitation.  The priority of the Institute is to rescue children from the poorest sections of Indian society who are the first to become victims of criminal gangs; the second priority is to build an institution that serves as a shelter as well as a learning institution where the rescued children will receive basic education.  
In early March of 1930, in order to help free India from British control, Mahatma Gandhi proposed a non-violent protest march denouncing the British Salt Tax, continuing Gandhi's national calls for civil disobedience.
Gandhi on the Salt March
Before embarking on the 240-mile journey from Sabarmati to Dandi, Gandhi sent a letter to the the British Viceroy Lord Irwin, forewarning him of their plans of civil disobedience:

"If my letter makes no appeal to your heart, on the eleventh day of this month I shall proceed with such co-workers of the Ashram as I can take, to disregard the provisions of the Salt Laws. I regard this tax to be the most iniquitous of all from the poor man's standpoint. As the Independence movement is essentially for the poorest in the land, the beginning will be made with this evil."

Only everybody-all-at-once can change the current chaos." – Adi Da
Lynne McTaggart takes some intelligent stock of the middle class at her blog, asking "What on earth ever happened to public outrage? Or protest? Or any sense of anger translating into action?" What Kool Aid are they drinking?, she muses.
What would MK Gandhi do?
The figures continue to be bad around the world, notes McTaggert.  By way of example, the latest American figures show that half of all Americans are struggling to get by on low incomes. The financial markets continue to worsen, soon to eclipse those of the 1930s. Millions of people have been turfed out of their homes, surrounding homeowners have lost $1.86 trillion in home value, 13 million people are out of work, and the collective wealth of American households has dropped by $16 trillion.
As Thomas Frank, author of Pity the Billionaire, wrote, 'If you had brought the world's teenaged anarchists together in some great international congress and asked them to design an ideal crisis, they could not have discredited market-based civilization more completely than did the crash of 2008.'
'If ever a financial order deserved a 30s-style repudiation, this one did,' he adds. 'Its gods were false. Its taste was bad. Its heroes were oafs and brutes and thieves and bullies. And all of them failed, even on their own stunted terms.'
Key Points from McTaggart –
– Most ordinary people today are taking all of this on the chin.
– In the 1930s, after four years of economic depression just like today, farmers across American radicalized and began to create roadblocks to farmers' markets. In 1933, thousands of farmers marched on Washington to put a halt to farm foreclosures. Veterans marched on Washington to protest unpaid pensions. Violence erupted in the streets. Leaders like Huey Long and Father Coughlin incited protest – as did Labor unions and the Communist party, which held campaigns, boycotts, and hunger marches that immobilized entire cities.
Today was the 63rd anniversary of Gandhi's death.
"Gandhi was inevitable. If humanity is to progress, Gandhi is inescapable. He lived, thought and acted, inspired by the vision of humanity evolving toward a world of peace and harmony. We may ignore Gandhi at our own risk."
– Dr. Martin Luther King Jr.
"Generations to come will scarce believe that such a one as this ever in flesh and blood walked upon this earth."
– Albert Einstein
On the 30th of January 1948, Gandhi woke up at his usual hour, 3:30 a.m. After the
morning prayer he put the final touches to the new constitution for Congress which he had been unable to finish the previous night. The rest of the morning was spent answering letters. Someone mentioned the fact that despite his poor health he was working incessantly. 'Tomorrow', he explained, 'I may not be here'. 'If I have to die I should like to die at the prayer meeting. You are wrong in believing that you can protect me from harm. God is my protector.'  Then, while holding a prayer meeting at Birla House, Delhi, Gandhi was shot dead.  A nation's father was dead. >>Continued at Gandhi Worldwide 
Timeline: original post date jan 30, 2011
Our dear friend Arun Gandhi posted a critical piece on monotheistic "dormancy" religion and politics at his Washington Post blog, which we are moved to repost here.  Arun examines the grossly apparent hypocrisy of the primary monotheistic traditions in his typical humble and insightful manner.
Arun Gandhi at Washington Post –
I have never been able to reconcile the Catholic notion that the life of an unborn child is of greater value than the life of a living adult. They are willing to go to extremes to stop abortions but they have never, in living memory, called upon Catholics not to participate in any wars where innocent lives of adults are freely taken. This is justified by the notion of "Just War." When is a war "Just?" The popular argument is that when it seeks to eliminate an evil personality like Hitler or Stalin or, in modern times, Saddam Hussein. This line of thinking implies that people who do bad things can be summarily eliminated to make the world a better place. But what of the millions who are killed in the process of eliminating one evil leader? Can it be said that all who follow orders of one evil leader automatically become evil themselves?
Source: Varun Soni | The Huffington Post
In 2007 the U.N.  adopted a resolution recognizing Mahatma Gandhi's birthday (October 2) as the "International Day of Non-Violence."   The resolution highlights "the holistic nature and the continued relevance of the Mahatma's message for our times, indeed for all times to come. It encompasses the rejection of violence against oneself, against others, against other groups, against other societies and against nature."
From The Huffington Post –
This year, Gandhi's birthday is an opportunity for the U.N. to think deeply about how Gandhian peacemaking can be relevant to its work of engagement, mediation, and reconciliation.
Gandhi Institute's Efforts against Child Trafficking and Child Labor Examined in BBC Special Report
Mahatma Gandhi's Grandson Combats Forced Child Labor and Child Trafficking – Featured on This
Week's BBC World News – the Fast Track Series
View BBC report here – Gandhi's grandson helps India's poor
WAUCONDA, Ill.– (EON: Enhanced Online News)–Dr. Arun Gandhi, President of the Gandhi Worldwide Education Institute ('GWEI') www.gandhiforchildren.org, announced today that his organization's efforts to combat forced child labor and child trafficking will be one of the featured examinations on this week's BBC World News – the Fast Track series.
"Poverty is the worse form of violence"
Part of a week-long exploration of organizations involved in a commonality of efforts to improve the plight of children, fight child labor and child trafficking and to promote a greater well-being around the world, the Gandhi segment will include footage taken in India in December 2009 with Dr. Arun Gandhi and Tushar Gandhi (grandson and great grandson, respectively, of Mahatma Gandhi) examining GWEI's efforts in rescuing, educating and feeding children living in the slums of Kolhapur, 200 miles south of Bombay.
"There are many evils still rampant in our 21st Century world, not the least of which are the three malignant sisters of child malnutrition, child trafficking and forced child labor, and continued lack of child education. As planetary awareness builds around these issues we hope to see these destroyers of childhood promise eradicated," adds Dr. Gandhi.
The Gandhi Fast track segment may be viewed online here – Gandhi's grandson helps India's poor
Interfaith, Peace & Social Justice
Born in 1934 in Durban, South Africa, Arun Gandhi is the fifth grandson of India's legendary leader, Mohandas K. "Mahatma" Gandhi. Growing up under the discriminatory apartheid laws of South Africa, he was beaten by "white" South Africans being too black and "black" South Africans being too white; so, Arun sought eye–an-eye justice. However, he learned from his parents and grandparents that justice does not mean revenge, it means transforming the opponent through love and suffering.
Grandfather taught Arun Gandhi to understand nonviolence through understanding violence. "If we know how much passive violence we perpetrate against one another we will understand why there is so much physical violence plaguing societies and the world," Gandhi said. Through daily lessons, Arun says, he learned about violence and about anger.