Do not be fooled by all of the slick ads and expert shills propaganda – remember to vote YES on CA PROP 37 this Tuesday 11/6! As Michael Spector writes in yesterday's New Yorker:  
On Tuesday the residents of California will vote on whether to become the first state in the nation to require labels to appear on foods that contain genetically engineered products. The proposition would also make it illegal to label any engineered or processed foods as "natural." (For a moment, let's put aside the fact that no meaningful definition of "natural" food exists.) The result, particularly if Proposition 37 passes, will set a precedent likely to shape the debate in other states—and in Washington, D.C.
Consumers deserve the right to know what's in their food—and obviously most people want that choice. It's hard to see how more knowledge about the products we eat every day can hurt us. But facts, particularly facts about science, are not what this proposition is about. The rancorous tone of the debate and the money wasted on propaganda—most of it spent by big agricultural companies in an effort to defeat the proposition—have been remarkable.
Genetically engineered seeds and crops (GMOs) = seed wars = knowledge wars. 
The only reason crops have been genetically engineered is to take patents on seeds , and collect royalties.If during colonialism the concept of Terra Nullius, empty land, allowed the take over of land and territories by the colonizer, a new concept of Bio Nullius, or "empty life," is being used to claim "intellectual property rights" on seeds , biodiversity and lifeforms.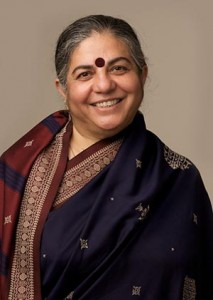 "But life is not empty. Seeds are not an invention. They embody millions of years of biological evolution , and thousands of years of cultural evolution and farmers breeding. When corporations claim patents, they basically "pirate" traits that nature and farmers have evolved. They pirate and patent the aroma of basmati, the low gluten qualities of our native wheat, the salt tolerant, drought tolerant, flood tolerant traits of climate resilience our farmers have bred. This is, not innovation and invention, it is Biopiracy. The only traits that the corporations have introduced into plants through genetic engineering are the toxic traits of Bt toxin and herbicide resistance. Besides being toxic, these traits have not reduced chemical use as has been repeatedly claimed. Our studies in Vidharba show a 13 fold increase in pesticide use since Bt cotton was introduced."  – Dr. Vandana Shiva