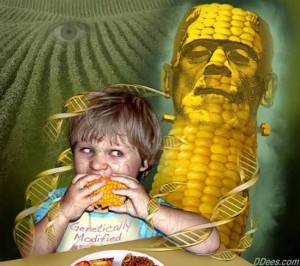 "A new generation of insect larvae is eating the roots of genetically-engineered corn intended to be resistant to such pests. The failure of Monsanto's genetically-modified corn (GMO Frankencorn) could be the most serious threat ever to a genetically-modified crop in the U.S.," says natural health advocate Dr. Joe Mercola in a recent HuffPost Blog
And the economic impact could be huge. Billions of dollars are at stake, as GMO Frankencorn accounts for 65 percent of all corn grown in the U.S. What's worse is that in addition to the growing dangers of ingesting GMO foods, GMO Frankencorn has been shown conclusively to be bereft of nutritional value in this stunning assessment presented by Lance Devon at Mike Adams' NaturalNews.
Hungary recently destoyed all of its GMO corn fields, and China, itself oft criticized for food health scandals, has recently rejected multiple huge shipments of U.S. GMO Frankencorn despite that country's urgent need for agricultural consumables. 
Do not be fooled by all of the slick ads and expert shills propaganda – remember to vote YES on CA PROP 37 this Tuesday 11/6! As Michael Spector writes in yesterday's New Yorker:  
On Tuesday the residents of California will vote on whether to become the first state in the nation to require labels to appear on foods that contain genetically engineered products. The proposition would also make it illegal to label any engineered or processed foods as "natural." (For a moment, let's put aside the fact that no meaningful definition of "natural" food exists.) The result, particularly if Proposition 37 passes, will set a precedent likely to shape the debate in other states—and in Washington, D.C.
Consumers deserve the right to know what's in their food—and obviously most people want that choice. It's hard to see how more knowledge about the products we eat every day can hurt us. But facts, particularly facts about science, are not what this proposition is about. The rancorous tone of the debate and the money wasted on propaganda—most of it spent by big agricultural companies in an effort to defeat the proposition—have been remarkable.
Genetically engineered seeds and crops (GMOs) = seed wars = knowledge wars. 
The only reason crops have been genetically engineered is to take patents on seeds , and collect royalties.If during colonialism the concept of Terra Nullius, empty land, allowed the take over of land and territories by the colonizer, a new concept of Bio Nullius, or "empty life," is being used to claim "intellectual property rights" on seeds , biodiversity and lifeforms.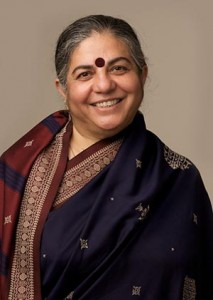 "But life is not empty. Seeds are not an invention. They embody millions of years of biological evolution , and thousands of years of cultural evolution and farmers breeding. When corporations claim patents, they basically "pirate" traits that nature and farmers have evolved. They pirate and patent the aroma of basmati, the low gluten qualities of our native wheat, the salt tolerant, drought tolerant, flood tolerant traits of climate resilience our farmers have bred. This is, not innovation and invention, it is Biopiracy. The only traits that the corporations have introduced into plants through genetic engineering are the toxic traits of Bt toxin and herbicide resistance. Besides being toxic, these traits have not reduced chemical use as has been repeatedly claimed. Our studies in Vidharba show a 13 fold increase in pesticide use since Bt cotton was introduced."  – Dr. Vandana Shiva

October is a very important month for Seed Freedom worldwide.
Join in! Occupy Seed! Seed Freedom now!
FORTNIGHT OF ACTIONS FOR SEED FREEDOM
Oct 2nd – Oct 16th 2012 
From 2nd October (Gandhi's Birth Anniversary), to 16th October (World Food Day) the Global Alliance for Seed Freedom is planning intensive actions to create a global citizens' response on the issue of Seed Freedom that we hope will act as a wake up call for citizens and the government. Gandhi had said, "as long as the superstition that unjust laws must be obeyed exist, so will slavery exist". Humanity and diverse species on the Earth are being pushed into a new form of seed slavery. In the spirit of Gandhi, we therefore call for a civil disobedience against unjust laws.
SYNOPSIS of THRIVE: An unconventional documentary that lifts the veil on what's REALLY going on in our world by following the money upstream — uncovering the global consolidation of power in nearly every aspect of our lives. Weaving together breakthroughs in science, consciousness and activism, THRIVE offers real solutions, empowering us with unprecedented and bold strategies for reclaiming our lives and our future.
INTERVIEWS in THRIVE: Duane Elgin, Nassim Haramein, Steven Greer, Jack Kasher, Daniel Sheehan, Adam Trombly, Brian O'Leary, Vandana Shiva, John Gatto, John Robbins, Deepak Chopra, David Icke, Catherine Austin Fitts, G. Edward Griffin, Bill Still, John Perkins, Paul Hawken, Aqeela Sherrills, Evon Peter, Angel Kyodo Williams, Elisabet Sahtouris, Amy Goodman, and Barbara Marx Hubbard.
The documentary "Good Food" spotlights organic farming in America's Pacific Northwest, if you've been paying any attention to the mood of consumers across this nation who are weary of contaminated food and wary of what's in the meat, produce, eggs, and other food items they purchase in supermarkets, you may have noticed a quiet but profound revolution. In their landmark film, Melissa Young and Mark Dworkin are not merely offering the viewer just a few more hundred facts about our food supply, but rather, sharing an intimate portrait of an emotional, perhaps even spiritual movement that is burgeoning in the United States in search of heartfelt connections around a fundamental human need: eating.
From Carolyn Baker at AxisOfLogic.com –
To examine the movie and the movement, consider that organic farming in the Pacific Northwest is increasing by 20-30% each year. Consider also that the number one cause of death among small farmers is suicide. Of course, the latter statistic is not unique to the United States. Physicist and activist, Vandana Shiva, has passionately pointed out the relationship between massive suicides among farmers in India and the amount of debt foisted on them by the influences of industrial agriculture in that nation. However, as David Suzuki in "Good Food" argues: The bill for large agriculture is coming due. I believe that it is coming due not only in terms of these suicides, but in a revolutionary demand for food that is grown locally and organically.