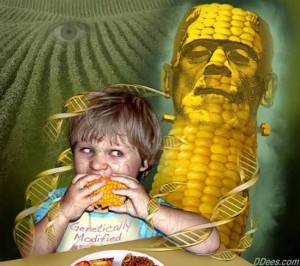 "A new generation of insect larvae is eating the roots of genetically-engineered corn intended to be resistant to such pests. The failure of Monsanto's genetically-modified corn (GMO Frankencorn) could be the most serious threat ever to a genetically-modified crop in the U.S.," says natural health advocate Dr. Joe Mercola in a recent HuffPost Blog
And the economic impact could be huge. Billions of dollars are at stake, as GMO Frankencorn accounts for 65 percent of all corn grown in the U.S. What's worse is that in addition to the growing dangers of ingesting GMO foods, GMO Frankencorn has been shown conclusively to be bereft of nutritional value in this stunning assessment presented by Lance Devon at Mike Adams' NaturalNews.
Hungary recently destoyed all of its GMO corn fields, and China, itself oft criticized for food health scandals, has recently rejected multiple huge shipments of U.S. GMO Frankencorn despite that country's urgent need for agricultural consumables. 
Thanks to the biotech industry's relentless quest to control our food, McDonald's, Burger King and even school cafeterias will soon be able to serve up apples that won't turn brown when they're sliced or bitten into.*
*Source: Organic Consumers Association
A new, almost entirely untested genetic modification technology, called RNA interference, or double strand RNA (dsRNA), is responsible for this new food miracle. Scientists warn that this genetic manipulation poses health risks, as the manipulated RNA gets into our digestive systems and bloodstreams. The biotech industry claims otherwise.
Of course, like any non-organic apple, the new GMO Arctic® Apple will be drenched in toxic pesticide residues, untested by the U.S. Food & Drug Association (FDA) and likely unlabeled. And of course these shiny new high-tech apples will be cheap, priced considerably lower than a pesticide-free, nutrient-dense, old-fashioned organic apple that turns a little brown after you slice it up.
When the Biotech Industry Organization gathers next week in Chicago for the 2013 BIO International Convention, BIOTECanada will present its "Gold Leaf Award for Early Stage Agriculture" to Okanagan Specialty Fruits, Inc. (OSF), purveyor of the Arctic® Apple, slated for approval in the U.S. this year. We hate to upset the biotech apple cart, but a pesticide-intensive GMO apple, produced through a risky manipulation of RNA, doesn't deserve a place on our grocery shelves, much less in the agriculture hall of fame.
That said, the Arctic "Frankenapple" is expected to be approved this year by the U.S. Department of Agriculture (USDA), responsible for protecting agriculture from pests and diseases. It does not require approval by the FDA, which is responsible for human food and animal feed.
Do not be fooled by all of the slick ads and expert shills propaganda – remember to vote YES on CA PROP 37 this Tuesday 11/6! As Michael Spector writes in yesterday's New Yorker:  
On Tuesday the residents of California will vote on whether to become the first state in the nation to require labels to appear on foods that contain genetically engineered products. The proposition would also make it illegal to label any engineered or processed foods as "natural." (For a moment, let's put aside the fact that no meaningful definition of "natural" food exists.) The result, particularly if Proposition 37 passes, will set a precedent likely to shape the debate in other states—and in Washington, D.C.
Consumers deserve the right to know what's in their food—and obviously most people want that choice. It's hard to see how more knowledge about the products we eat every day can hurt us. But facts, particularly facts about science, are not what this proposition is about. The rancorous tone of the debate and the money wasted on propaganda—most of it spent by big agricultural companies in an effort to defeat the proposition—have been remarkable.
Genetically engineered seeds and crops (GMOs) = seed wars = knowledge wars. 
The only reason crops have been genetically engineered is to take patents on seeds , and collect royalties.If during colonialism the concept of Terra Nullius, empty land, allowed the take over of land and territories by the colonizer, a new concept of Bio Nullius, or "empty life," is being used to claim "intellectual property rights" on seeds , biodiversity and lifeforms.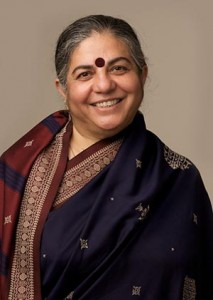 "But life is not empty. Seeds are not an invention. They embody millions of years of biological evolution , and thousands of years of cultural evolution and farmers breeding. When corporations claim patents, they basically "pirate" traits that nature and farmers have evolved. They pirate and patent the aroma of basmati, the low gluten qualities of our native wheat, the salt tolerant, drought tolerant, flood tolerant traits of climate resilience our farmers have bred. This is, not innovation and invention, it is Biopiracy. The only traits that the corporations have introduced into plants through genetic engineering are the toxic traits of Bt toxin and herbicide resistance. Besides being toxic, these traits have not reduced chemical use as has been repeatedly claimed. Our studies in Vidharba show a 13 fold increase in pesticide use since Bt cotton was introduced."  – Dr. Vandana Shiva

October is a very important month for Seed Freedom worldwide.
Join in! Occupy Seed! Seed Freedom now!
FORTNIGHT OF ACTIONS FOR SEED FREEDOM
Oct 2nd – Oct 16th 2012 
From 2nd October (Gandhi's Birth Anniversary), to 16th October (World Food Day) the Global Alliance for Seed Freedom is planning intensive actions to create a global citizens' response on the issue of Seed Freedom that we hope will act as a wake up call for citizens and the government. Gandhi had said, "as long as the superstition that unjust laws must be obeyed exist, so will slavery exist". Humanity and diverse species on the Earth are being pushed into a new form of seed slavery. In the spirit of Gandhi, we therefore call for a civil disobedience against unjust laws.