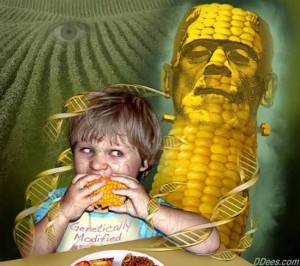 "A new generation of insect larvae is eating the roots of genetically-engineered corn intended to be resistant to such pests. The failure of Monsanto's genetically-modified corn (GMO Frankencorn) could be the most serious threat ever to a genetically-modified crop in the U.S.," says natural health advocate Dr. Joe Mercola in a recent HuffPost Blog
And the economic impact could be huge. Billions of dollars are at stake, as GMO Frankencorn accounts for 65 percent of all corn grown in the U.S. What's worse is that in addition to the growing dangers of ingesting GMO foods, GMO Frankencorn has been shown conclusively to be bereft of nutritional value in this stunning assessment presented by Lance Devon at Mike Adams' NaturalNews.
Hungary recently destoyed all of its GMO corn fields, and China, itself oft criticized for food health scandals, has recently rejected multiple huge shipments of U.S. GMO Frankencorn despite that country's urgent need for agricultural consumables.